History and Guide Book to Lenticular Technology is just that, it is the most comprehensive information directory on lenticular technology ever compiled, from the inventors of Lenticular! The program contains the following:

A directory of many, if not most lenticular images produced. Covers the 1940's to the mid 1980's.
Contains the original manufacturer catalog numbers as well as the Didik Universal Catalog Number® (DUCN) for every lenticular.
Contains the original selling price and current value of collectable lenticular images.
Contains thousands of illustrations, photographs and images of lenticulars ranging from stock items, to one of a kinds. Includes rarities and common items such as The Beatles, Elvis, Ed Sullivan, political buttons and thousands of others. This database may also help you get ideas for new images, once you see what has already been produced.
Many original Vari-Vue confidential documents including production runs, price sheets, sales information, annual reports as well as technical and lens information. Many of these were formally considered. Much of this information is raw data and is of a historic nature.
Contains original catalogs and price sheets from Vari-Vue including a detailed list of lenticular lenses.
Also contains information on how to make your own lenticular images as well as a directory of shareware related 3-D production software as well as much more data and information.
Also contains a photographic directory of most stereo cameras produced from the 1880's till today.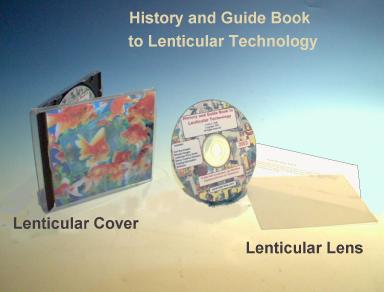 history and guide book to lenticular technology 1.2