WordFIX is a Microsoft Word recovery software designed to restore corrupt or damaged document files back into new trouble free files. WordFIX recovers Ms Word document files from all versions of Microsoft Word including 2003, 2002 (XP), 2000, 97, 95, 6.0, 2.0, and all versions of Word for Macintosh. WordFIX is a Windows 98/2000/NT/Millenium compatible utility.
Can be used for viewing Word 2000 and 97 documents from Word 95. Recovers texts, images and advanced formatting. Recovers lists. Recovery of table data. Safely recovers documents that have been infected by viruses. Recovers embedded HTML. Frequent updates with new features. Technical support and free updates for 1 year. Easy download and installation. Easy user interface for both advanced and novice users. Includes automatic install and uninstall features.
The Enterprise version includes Batch recovery: This version allows the user to select multiple files for recovery without further intervention. This feature is intended for the recovery of many Word document files.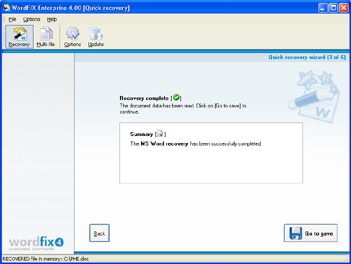 wordfix data recovery 4.00