Do you have lists that you need to split up or many files that you want to put into one? This might be the perfect program for you. Simpli-File Split & Merge is the easiest way to split or merge as many files as you need to in order to get your computer arranged the way you want it.

Key features for splitting files:
1. The size you want each file to be
2. The number of lines you want in each file
3. The total number of files you want to end up with after splitting
4. Split at certain text
5. Insert a header into each split file

Key features for merging files:
1. Insert a comment where the files are merged
2. Remove duplicate files
3. Remove files where text is contained in other files

This premier software is one of the many Simpli-File programs that help you get on your way to making your tasks fun and life simple. Best of all, our Simpli-File software is absolutely free to try with no expiration.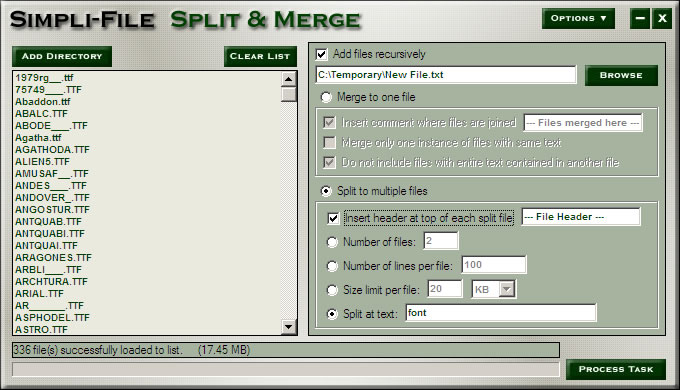 simpli-file split and merge 1.5.0