Analyze and document binary components. ActiveXplorer is a library file manager and analyzer for COM libraries - ActiveX controls, TLBs, DLL and EXE servers - and .NET assemblies.

- There are hundreds of libraries on your computer. What are they doing there? Are they installed correctly? What's in them?
Your component is ready, but the help file is rather undone? Found a new
component but no docs? Relax! ActiveXplorer will create the missing
documentation in a minute.

- See inside components. Analyze them. What classes, methods and
properties do they contain?

- Document components. Automatically generate
full technical documentation for binary files. List installed files and
document their contents.

- Escape DLL Hell. Solve installation problems,
find missing files, and register files correctly.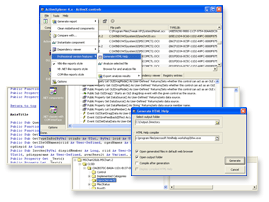 activexplorer 4.0.203