Magic Mirror is a new screensaver - and software toy - that operates as a true kaleidoscope. It takes in ordinary pictures and creates full-screen moving kaleidoscope images from them. The free trial version is an attractive screensaver in itself, but can only operate with a fixed set of images. The full version has fifty extra specially-selected images, and also can use ordinary Windows BMP files - family photos, downloaded images or whatever.

As a screensaver, Magic Mirror has all the options you might expect, and more. Select the number of reflections and the camera magnification and movement pattern, or let the program choose randomly. You can choose a split screen mode that shows the source picture and moving mirrors simultaneously with the kaleidoscope image. Particularly attractive is the mode that changes mirror position occasionally, with the last image fading smoothly into the next. For sound effects, use the included wind-chime sounds, or select any MIDI music files.

In Settings mode, you can use it like a versatile toy kaleidoscope. The small preview window can be detached and expanded to any size. You can load specific images, and if you want you can move the mirrors around 'by hand' using the arrow keys. Save the current image anytime for use as wallpaper etc.

If you like kaleidoscopes at all, this is well worth a try!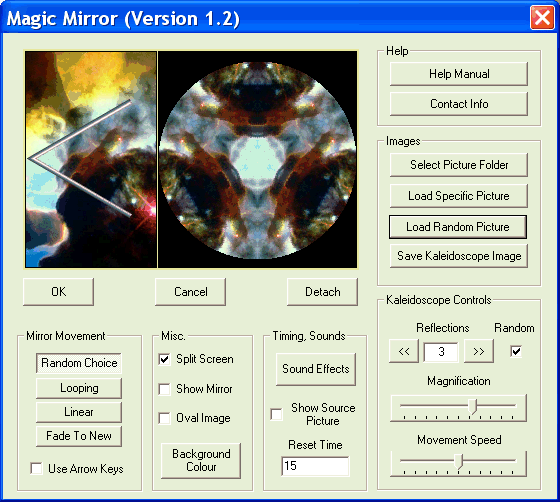 magic mirror kaleidoscope screensaver 1.21