SELLmatix Point of Sale Software for Retailers and Restaurants uses Touch Screens, Keyboards, Barcode Scanners and Electronic Scales and requires minimal training due to Cash Register liike operation, and this results in extremely fast operation with minimal user input.

SELLmatix POS uses low cost industry standard components for reduced cost and improved reliabilty and maintenance cost, and all technical information is available online along with our free support Forum.

Up to 64 SELLmatix POS terminals can be controlled by each SELLmatix Controller making the system almost infinitely scalable.

SELLmatix is one of the fastest systems to get operational. You can import masterfiles from almost any source, and even when you don't have a product masterfile, you can ad products "On the Fly" while processing sales. Operators can sell by department like a cash register and if they just scan and enter just one item each sale each item added is automatically sent to the other POS terminals so that within just a few days most items are in the database.

The SELLmatix POS interface is completely configurable. You can set up an unlimited number of screens, with as many buttons on each screen as you wish. You can customise each of these buttons to display whatever colors, text, fonts and even images you want.

In a Restaurant, orders for tables can be entered or retrieved from any POS terminal with the items ordered automatically printed on up to 9 kitchen and bar printers. Orders can even be taken on a Pocket PC via a wireless network connection.

SELLmatix POS connects to SELLmatix Control which administers the POS terminals automatically keeping them up to date with product updates and pulling transactions from the POS terminals. The connection between POS and Control can be any network protocol that supports TCP/IP. Even over the internet.

SELLmatix is very robust in design, and terminals can operate independantly of the server for days where necessary.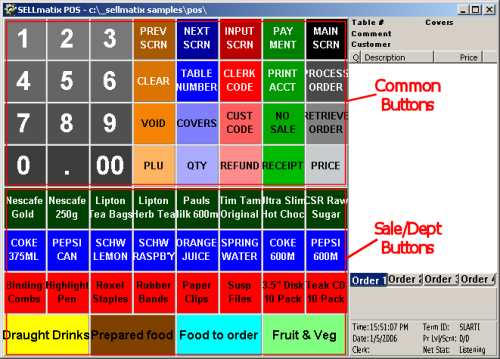 sellmatix pos 1.3.0.4